Amy Nelson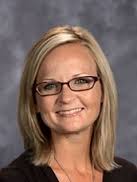 TEAM NELSON
---
Welcome! My name is Amy Nelson and I am a 4th grade teacher at Mulvane Grade School. I am married and have three sons. My husband is a teacher and coach for Mulvane High School and I am the MHS Cheer Coach. Our boys are actively involved in sports so if I'm not here at school, I'm usually at one of their events. In my spare time I love to read and spend time with our two dogs.
Communication:
I will be sending weekly newsletters in reference to our English Language Arts units that will include their spelling lists, vocabulary words, and the skills we'll be working on for the week. The newsletter will also include information on our current math topic and ways you can help at home. Each night your child should be bringing home their agenda. Each morning we'll write our plans for the day and it is my hope that they'll share that with you each evening. Please sign or initial that you've seen the agenda and your student will receive a punch on their reward punch card. Once their card is full, they'll be able to choose a prize from the bucket. Communication is very important to the success of your student and my classroom. If you have any questions or concerns at all, please feel free to email at anelson@usd263.org or call 777-1981.
Homework:
Every week, I'll be sending homework home for your student to complete. The schedule is as follows:
Week One-We will send home a spelling tic-tac-toe to help your student practice their spelling words
Week Two-We will send home a vocabulary worksheet with some sentence editing practice on the back
Please initial or sign your child's homework. I have children of my own and understand the nightly complications of homework. It isn't meant to cause stress or create issues for your child. If there is a question or problem that you and your child can't figure out, please just have your child circle that problem and I'll help them with it the following day.
I encourage you to check this page for news, curriculum related resources and websites, and updates on what we are learning. Below you can find a few helpful websites that you and child can explore together. We also use google classroom in our room, so please don't hesitate to ask questions on how that works.
Amy Nelson
Mulvane Grade School
anelson@usd263.org
316.777.1981